Full-Mouth Reconstruction
Renew Your Health & Self-Esteem
Proudly reveal a full & beautiful smile
Regain confidence by replacing missing teeth
Relaxing with calming sedation & amenities
Feel Confident Again With Full-Mouth Reconstruction in Dallas
Severely damaged or missing teeth not only cause issues with your oral health, but they impact your self-esteem too. You might feel embarrassed to laugh or smile, and you may even avoid social events because of how your smile looks. You can change all that with a full-mouth reconstruction in Dallas. With the help of Dr. Hardcastle, you will:
Regain your confidence in your oral health
Enjoy smiling again without feeling self-conscious
Avoid further oral health complications in the future
Eat what you want without limitations
Speak more clearly and without slurring
Discover what we can do for your smile by calling (972) 992-5223 for an appointment.
Rebuild Your Smile With Full-Mouth Restoration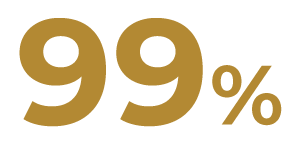 The success rate for full arches of fixed teeth secured to implants is over 99% after 1 year.Source.

When we reconstruct your smile, it includes a wide range of services that focus on replacing missing teeth and restoring your oral function. Your dentist will develop a personal treatment plan for you based on what's best for your situation. Dr. Hardcastle can also show you why certain procedures are necessary. He uses an intraoral camera so you get a closer look at areas of damage and understand his recommendations.

Your treatment plan may include the following procedures:
Dental Implants – These artificial tooth roots give your restorations a strong foundation. You'll be able to chew all the crunchy foods you want and improve the bone health in your mouth.
Dental Crowns and Bridges – Replace missing teeth and repair damage with our porcelain crowns and bridges. We can also pair these with implants too.
Hybridge Dental Implants – This process for replacing a full arch of teeth uses fewer implants, so you'll enjoy a complete smile in less time. It's a great option if you don't have a strong enough jaw for traditional implants.
Dentures – This reliable option to replace your teeth is not anything like your grandparents' false teeth. Dentures are more lifelike than ever, and we can secure them with implants for a more natural function.
All-on-6 Dental Implants – We use six implants instead of eight to give your new arch of teeth a solid foundation, so the healing process is faster.
All-on-4® Dental Implants – This treatment uses four implants to replace missing teeth and helps you avoid a potential bone grafting procedure.
There's no reason to feel nervous about any procedures we recommend. In addition to Dr. Hardcastle's expertise and compassionate approach to patient care, you can opt for sedation to ease your nerves. Plus, we have comforts like lip balm, blankets, and warm towels.
Love smiling again with full-mouth reconstruction in Dallas. Call (972) 992-5223 for an appointment. Be sure to ask about our VIP club for discounts on services if you don't have insurance. Third-party financing is also available if you are concerned about cost.
Common Questions About Full-Mouth Reconstruction
A full-mouth reconstruction is a comprehensive plan to replace and repair all or nearly all your teeth. If you are suffering from widespread dental damage, our team will work hand in hand with you to develop a treatment plan to give you back a full mouth of teeth. When your dental work is complete, you'll have a beautiful and functional smile you'll be proud to show off everywhere.
There is no standard time frame for a full-mouth restoration. It will depend on the treatments you need, as well as the restorations you choose. For example, if tooth extractions are part of the process, you'll typically need to allow time for healing before you can receive any implants or restorations.
The cost for a full-mouth reconstruction can vary widely, depending on the type of treatment we perform. We encourage you to come in for an initial exam so we can discuss your needs and take digital images to guide us in determining your treatment options. Then we can provide you with an accurate estimate of your treatment.